BELL PEPPERS or CAPSICUM is a warm weather vegetable available in different colors mainly Green, Red, Yellow, Purple & white. They are easy to grow (provided the right climate) and resist most pests and diseases. If you don't have much space available or you live in a cold climate then growing bell peppers in Pots/Container is a great idea. Let's discuss how to grow bell peppers from seeds.
Starting from Seeds
Fill the seed tray with good quality Seed Starting Mix/ Potting Mix or you can make one yourself. Can also use pots instead.
Plant two seeds in each cell or three seeds in each pot. Can also soak the seeds in lukewarm water for 2-6 hours before planting for early germination.
Keep the potting medium moist, not soaking wet & don't let it try out.
The soil temperature must be atleast 20 C (70 F) for optimum germination rate.
Seeds will germinate anything in between 7-21 days, depending upon the seed quality & growing condition.
Once germinated, thin out the weaker seedling. In case of pot, discard the weakest one and let two plants grow as they protect each other from sunscald & sunburn. The yield will also be good as compared to two different plants.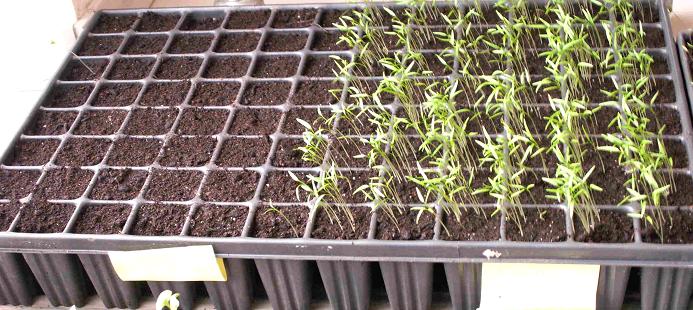 Transplanting
Start hardening off seedlings atleast 7 days before transplanting.
Prepare the garden soil or potting soil by adding well matured compost or fertilizer atleast 7 days in advance.
Transplant the seedlings once they grow atleast 2 true leaves.
Plant the seedlings around 20 inches apart in ground or 2 per medium sized pot.
Add 2-3 matchstick tips in the hole with the plant. This will give your plant a much needed Sulfur and Potassium.
Watch the Video
Tips
If you live in tropical or warm/desert climate, then avoid planting pepper in BLACK POTS.
Green & Red pepper are the same things. Reds are the one which have been allowed to mature on plants longer.